Events and Exhibits
Curious By Nature Events and Exhibits
Upcoming Events
Calendar of Themed Wildflower Walks
Each 2-hour walk (rain or shine) will begin at 5:30pm.
Date/Time Location Theme
July 24 100 Acre Wood Woodland Wildflowers
August 20 Dwaas Kill Nature Preserve Woodland Wildflowers
August 28 100 Acre Wood Woodland Wildflowers
September 25 100 Acre Wood Woodland Wildflowers
Ongoing Exhibits
Previous Exhibits
The Town of Clifton Park compiled its 2015 calendar from a selection of winning photos submitted to two photo contests conducted during 2014. The "Open Space and Nature Day Photo Contest" sought entries from residents and visitors with the goal of encouraging them to enjoy the outdoors. The second contest, "Art in Everyday Life," sought entries that represented the artist's interpretation of this theme in photographic images.
One of my entries, entitled "Vischer Ferry Sunset," was selected for the December photo of this calendar as a result of it being selected a first place winner in the "Landscapes" category of the Open Space and Nature Day Photo Contest.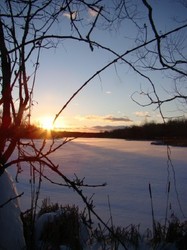 All entries were photographed at any of eight nature preserves or parks located in the town. The Open Space and Nature Day was hosted by the Town Board and its Open Space, Trails & Riverfront Advisory Committee on May 17, 2014.
View the 2015 calendar. Read more about it.
On December 1, 2014, the Town Board recognized the winning entries and the associated artists at the beginning of its regular board meeting with a slide presentation of the calendar's photographs.
A two-month exhibit at the former Local.Art.Works gallery in the Jonesville Store in Clifton Park included several of my wildflower and seasonal landscape photos.
Scenes from the artists' reception -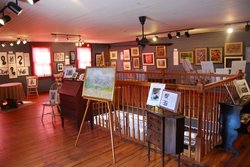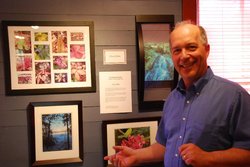 This winter landscape (St. Regis Mountain, part of the Adirondacks), was
previously on display
as part of the New York State Museum exhibit, entitled "Wish You Were Here!" That exhibition featured photographs submitted from the public-at-large from across New York to illustrate the types of scenes one would expect to see on a postcard that you'd send "back home" to visually capture something memorable from your trip. The exhibit was simultaneous with "
Not Just Another Pretty Place: The Landscape of New York."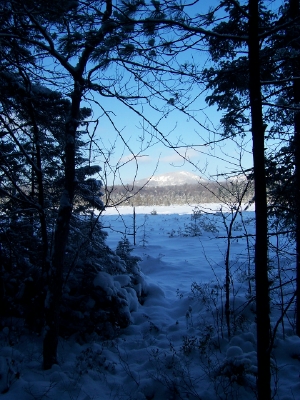 This winter image of the Vischer Ferry Nature and Historic Preserve, entitled "Shimmering Landscape," received a 2nd Place award in the "Nature" category in the 2009 Clifton Park River Days Photo Contest: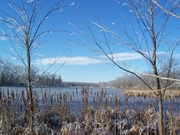 This waterfall image, entitled "Nature's Backlighting: Azure Cascade," was an unawarded selection in Clifton Park-Halfmoon Public Library's 14th Annual Juried Art and Photography Show: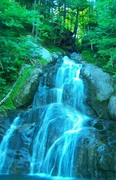 © David H. Behm / Curious By Nature